I had been asked about the system we use for making apple juice, since it's not the pretty historic oak apple juicer. I finally got everything out and made 35 gallons of juice this weekend and took photos, so am posting this.
We built a platform of 2X 6's to set a roasting pan on the pressure plate of a 12-ton hydraulic press from Harbor Freight. DS drilled a 1" hole in one corner of the roasting pan into which we press a surgical-tubing hose. The diameter doesn't matter, but it should be pretty good-sized, as the juice flows quickly.
We use a small electric chipper-shredder to shred the washed apples. DS melted the throat and widened it so it is big enough to accept most apples. That was nice, because to begin with I had to cut each apple in half. The chipper-shredder does an excellent job.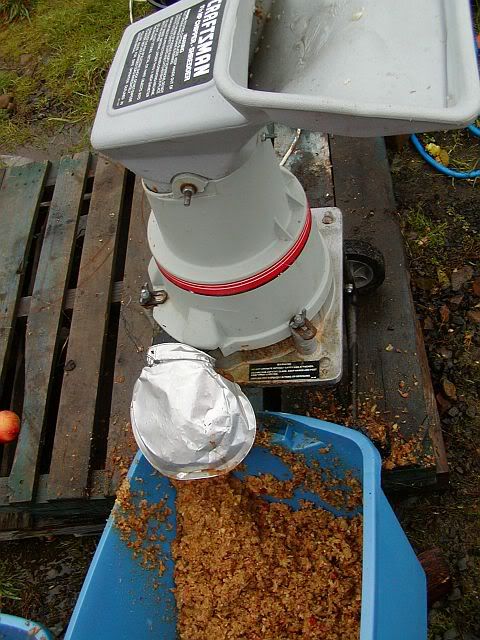 The wrapping cloth is a sheer curtain cut to fit. About 2 ½ quarts of apple squish fits at a time.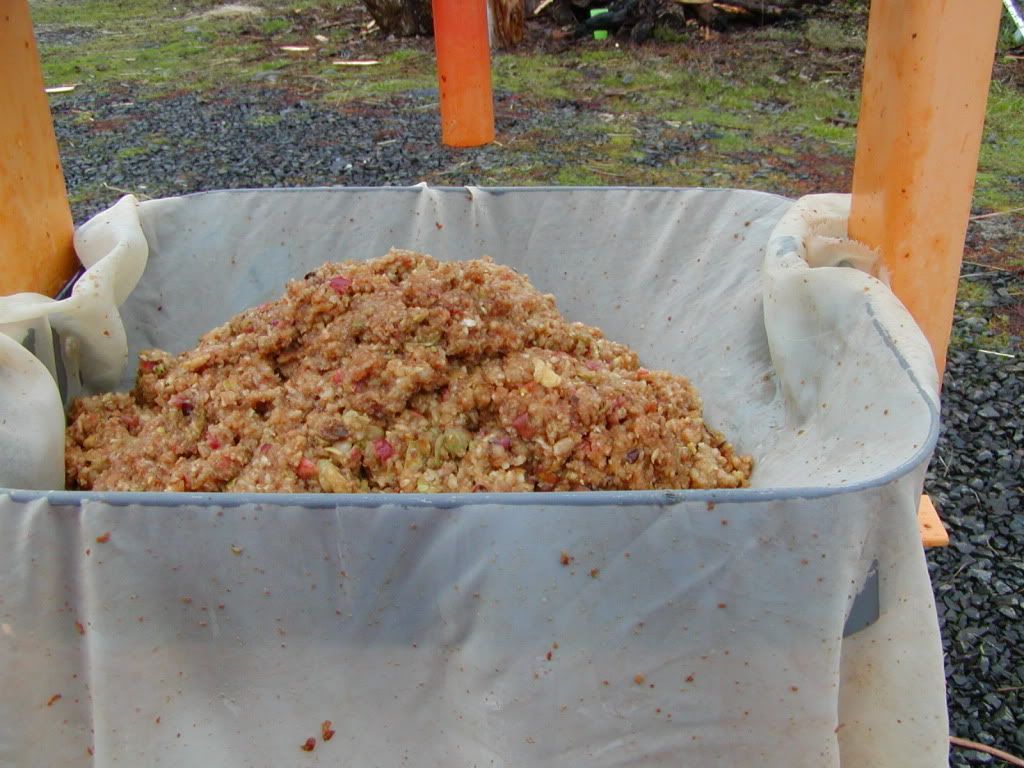 The sides and the ends are folded over, then the 2X10 presser goes on top. I have a second 2X piece of wood spacer so I don't have to pump the handle as far. Pump the hydraulic pressure foot down until it's firm, wait a couple minutes for the juice to flow out, and release.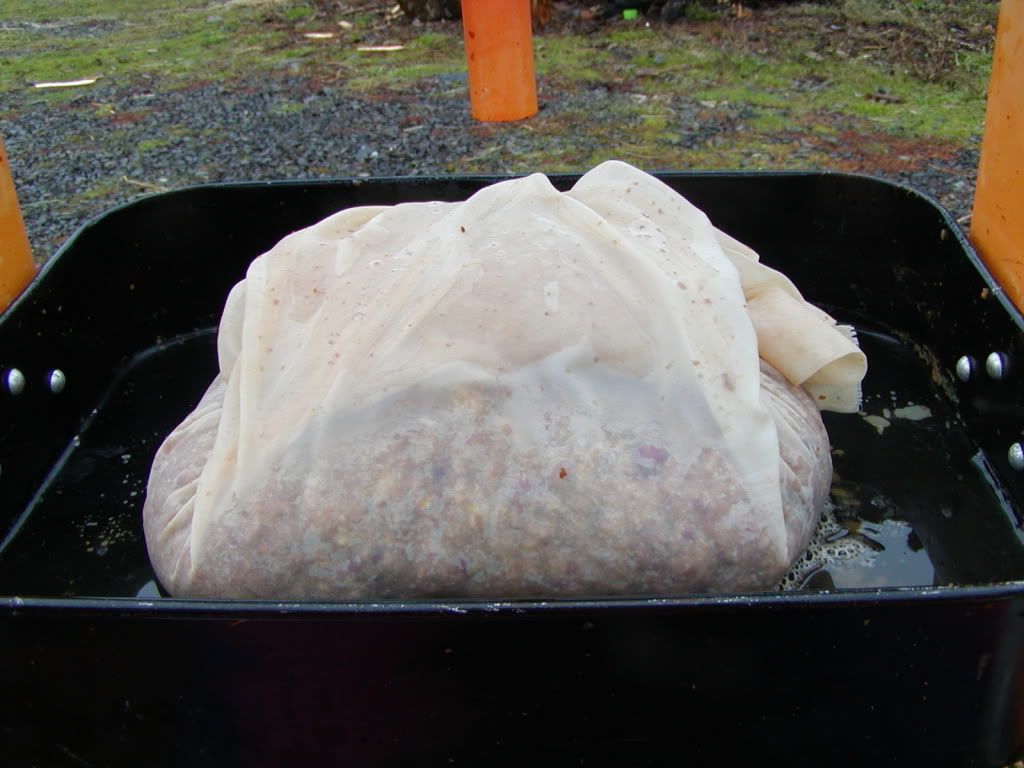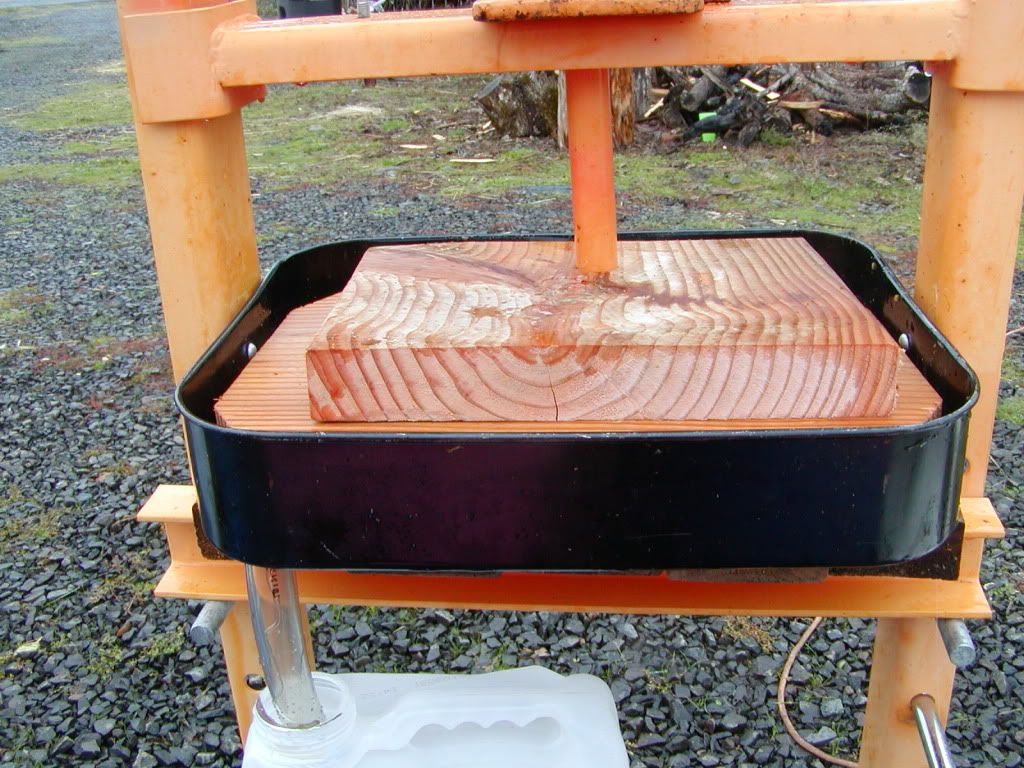 Dump the dry pommace into a bucket for the sheep & pigs, and set it up again.
We got 5 gallons of juice from every 12 gallons of whole apples. I made single-type juice and mixed juice, and got about the same percentage from both types, although the apples that had ripened earlier and were softer had more opaque juice. The fine floating bits didn't precipitate out as rapidly before it was heated.
When the juice is canned, most of the bits precipitate out and the color lightens a lot. After several months, it's completely clear. Before it clears, it still tastes the same and there isn't any feel to the floaty bits, but it is prettier after clearing.
Anyway, have fun! We make apple wine, vinegar and canned apple juice.
Kit