Discussion Starter
•
#1
•
Sometimes knowing your dogs' behavior is as important as listening to them. In the case of this returning visitor, it wasn't a whole LOT of barking that aroused me, it was the lack thereof.
Oscar, our old farm collie gave a few stern, warning barks, then went quiet, and his little sister – nothing. That's what got me out of bed. After all, she's the noisy one, always barking about nothing. "Hark – a jet plane! Warning – a rabbit". The absence of both dogs when I finally made it outside gun in hand alerted me that something was really up. Throughout the whole episode of taking down this predator both dogs looked on safely from the road making nary a yip.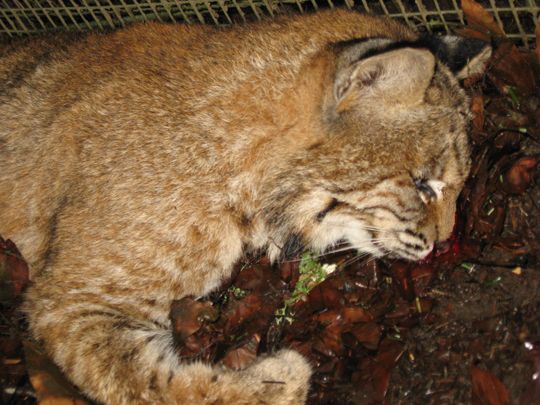 I don't feel any sense of triumph dispatching it. It was a magnificent animal. Our flock has taken a lot of hits from this cat, and as i understand it, our spring bucklings could have been in danger too. All the time we thought it was the usual raccoon bandit… and though they were passive, I'll give our trusty farm dogs their due – to Oscar for sounding the alarm - just enough, and to Laika, his little sister in training, for recognizing that if you don't have anything smart to say, now is not the time to say it.