Discussion Starter
•
#1
•
The soil in this plot first was fortified with nutrients from a chicken coop that was made smaller, then covered over in deep grass clipping mulch last year.
This area has not been tilled or dug. It's designated as 'no dig- no till' potato patch for Yukon Gold and Norland potatoes.
First 2 photos show the seed potatoes cut into the right sized peices each haveing at least 3 eyes. First picture shows them fresh cut to dry and cure in the greenhouse. The 2nd picture shows them after drying and 'cured' ready to plant:
First step in planting was to mark a row with twine and pul aside the existing mulch, clean away any possible weed or grass root contaminating the mulch, which there was very little. Then scrape the loose bottom soil with a hoe lightly to have a place for the potatoes to take root.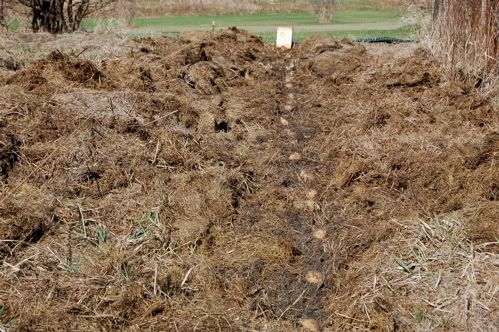 Then the row is covered with the mulch and another row 2 feet adjacent is marked, and the step repeated.
Finally, 2 rows are covered in mulch, the 3rd row is marked and ready for the existing mulch pile to be moved so another 'trench' can be supplied for the next row, etc. The supervising dog is extra smug in all this.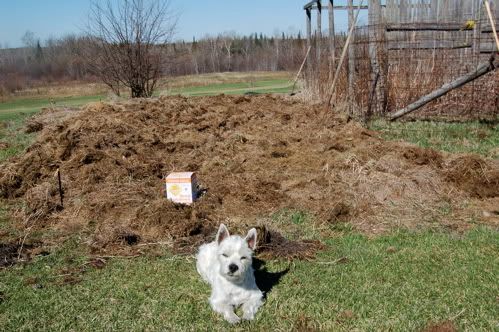 If all goes well, what should happen now is the spuds will germinated through the mulch layer that is about 4 to 6 inches over the seed potatoes. Then more mulch will be added to the rows between and againse the growing potato tops. At harvest, there is 'no dig' as the spuds are pulled up through the fairly loose mulch.