Discussion Starter
•
#1
•
This isn't scientific in any shape or form, nor meant to convice anyone about 'no till' heavy mulch gardening, but I'm gardening by that method in two plots.
So, it's august after a mulch layer is down supressing weeds pretty good like it should be doing. I like also that it helps hold in moisture during this last month of rainless very dry weather. With only well watering individual plants or rows, am I able to keep the garden alive. The mulch is really helping, I believe.
The other thing is worms and the good topsoil layer that was there before mulching with lots of grass clippings. I'm pretty sure the worms are the 'good' ones in the layers they are 'tilling'. Plants are showing good growth, so further down must be good tilth in most of the garden.
I did amend with some limestone in the rows I was going to plant, and also fertilizer before planting. Compost is an integral addition throughout the growing season, so it's not like the soil is ignored of added nutrients.
Some pics here show basically the cover of the mulch and down below at the surface where nothing is growing, as it should. This first pic is quite a dry spot. Digging down a few inches reveals some moisture already and some earthworm activity. I expect to see much fewer earthworms this time of year as they die off, and expect to see more 'baby' earthworms of the next generation. I'm seeing some of that, but in moist areas still are an abundance of worms with every poke of the trowel down about a few inches. I'm sure they are enjoying the mulch, and leaving their rich nutrient casts behind.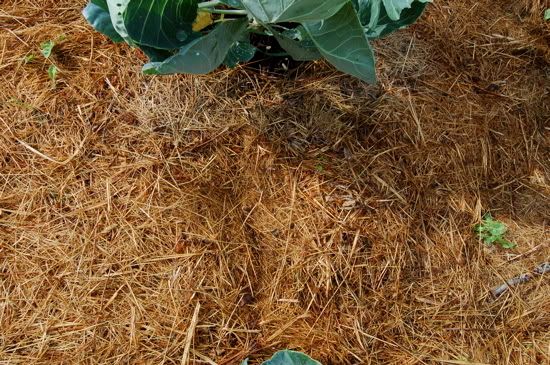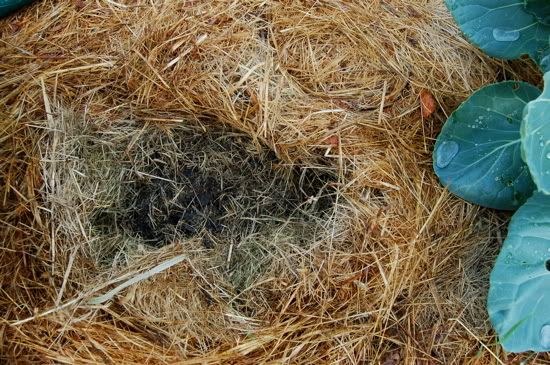 After playing around with the test dig, it's easy to cover over with mulch and keep virtually weed free. The pic shows the area just dug, and around it some of the garden growth with tomatoes immediately behind.
Now, in a more moist area, a test dig showing lots of worms. They crawl away fast, but on one trowel poke down I see an average of half dozen garden worms. That is lots. No nightcrawlers are noted in the gardens.
They are all short, about 4 inches or less. I will do more investigation later about the worms deeper in the soil. If anything, the mulch will break down for additional organic matter. Addition of chicken manure and other ammendments keep it going. more mulch over that for further growing seasons, and weeds are much more manageable.