·
God Smacked Jesus Freak
Discussion Starter
·
#1
·
Just about every year the power goes out at some point. This year it was out for a week over Christmas, which tanked baking day plans, or finishing up handmade presents(cuz no good light at nite and I was pooped from playing in the snow anyways). It wasn't so bad, especially with all the snow--I just kept melting water on big pots on the wood stove. I knew the power would go out and managed to just get all the clothes and dishes washed and any container filled just before the power went out. Lanterns and candles and matches were ready on the table, flashlites loaded with new batteries, baking soda and fire extiguisher set in easy to find places, milk jugs set outside to freeze to put into the fridge. We had to leave the house after 3 days, and were worried about the pipes freezing. We just left the faucets on slow drip(we did NOT use any pump water after the power went out in order to keep up tank pressure to drip). Luckily our pipes didn't freeze, although temps were in the 20s(the basement plumbed walls are below grade, the plumbed stuff above is about 1-2' inside the slope of a-frame walls).
Atmospheric pic of non-electric light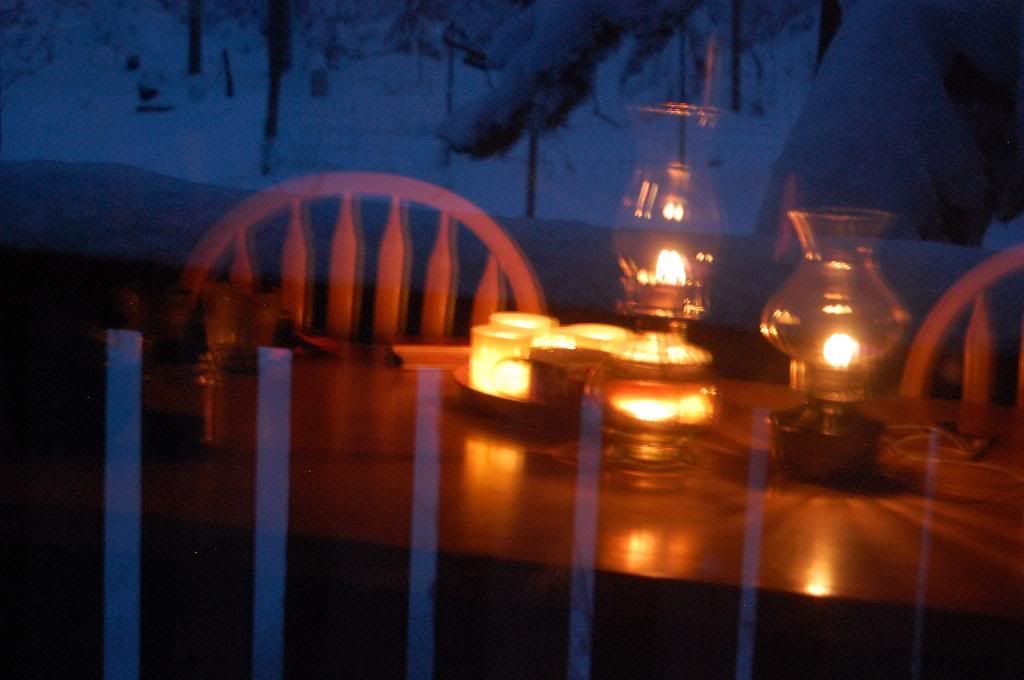 Grinding coffee with a mortar and pestle--it took me 45 minutes to make enough for 2 cups of coffee. That's my favorite coffee cup, nice and big and sits on top of the stove. I cna't tell you how GOOD that ground coffee smelled, just the smell made the 45 minutes worth it. Good shoulder workout too.
After no wii or x-box, the kids fought over who got to wind the wind up radio. Really. It was great to be able to listen to the news, and also we enjoyed Paul Winter's Soltice concert on NPR. The boys also fought over who got to open a can of beans and stir it on the woodstove.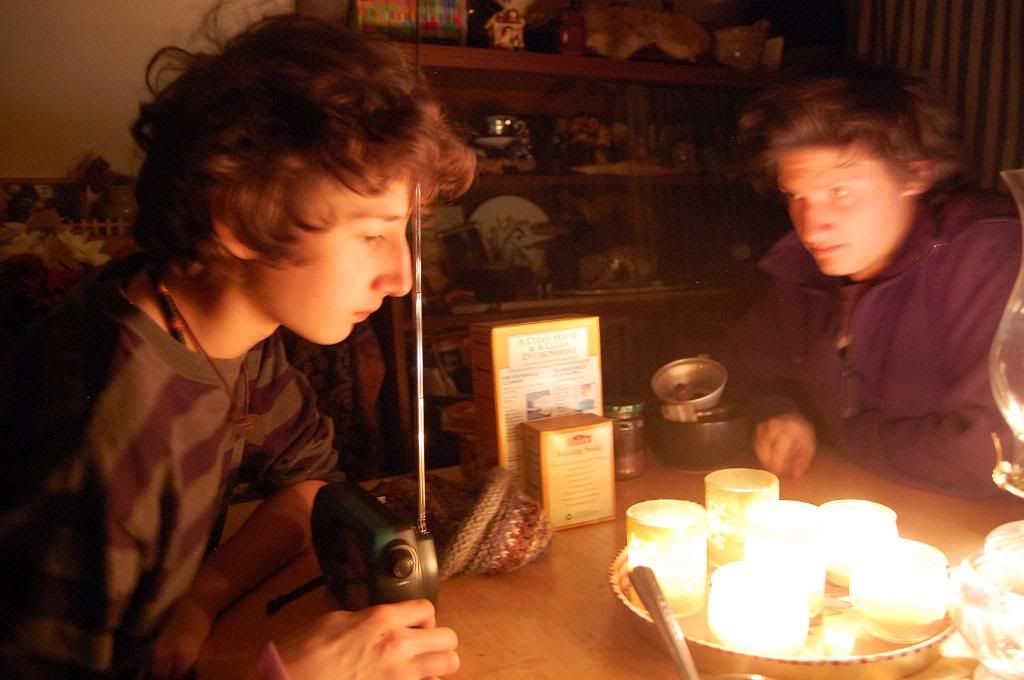 Pancakes on the bar-bee. Who's suffering?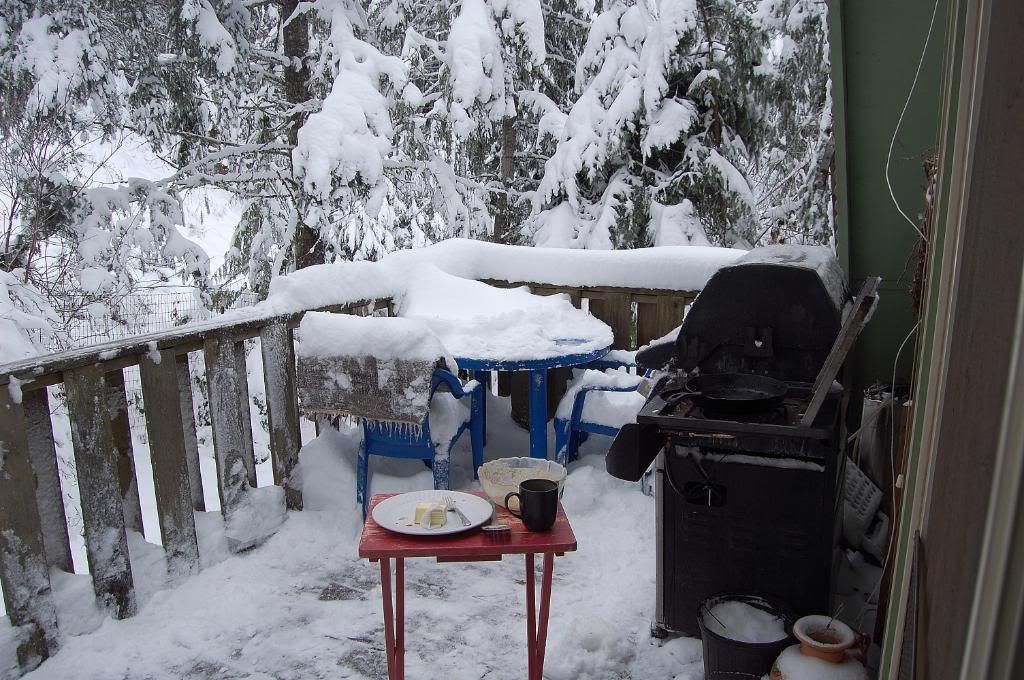 I shoveled out the driveway, in one shot. I found out I can be soaking wet for 2 hours in below freezing without catching my death of pneumonia. Heh. No heart attacks either. I was not successful in convincing the hub that trying to plow through the snow with the truck was a good idea--he spent time laying on the ground picking out packed snow from underneath the truck, heh. Maybe he'll listen to me next time. Nah.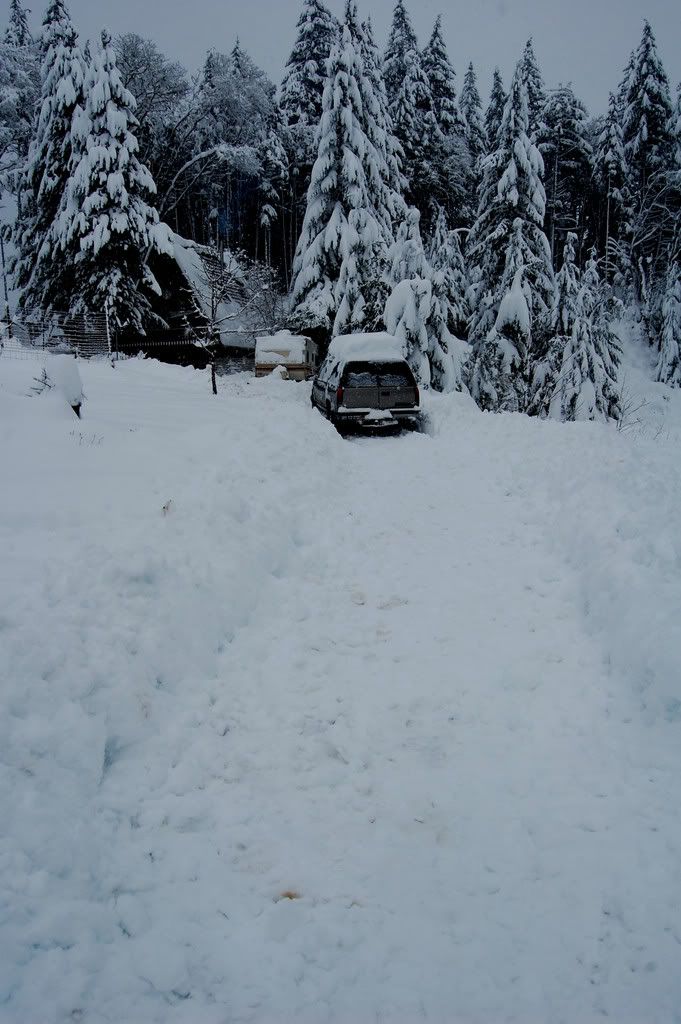 We HAD to leave the mountain to go to work, and get off the mountain so we could get to California to go to MIL's funeral. The road looked like Armageddon hit it, trees down everywhere, powerlines down, hanging stuff--that is the road straight ahead of us.
I did discover that melted snow makes my hair unbelievably soft and curly
PS< yes, me and the kids took a shovel and "went" in the woods--until hub had to go, then he shut off the water to a toilet(to not drain the water tank and lose pressure for drip) and we were "allowed" then to flush(with water I'd stored up, and replenshed with snow water). MEN!