Discussion Starter
·
#1
·
Well, we are looking at selling these three bull calves we still have on milk. When the does start kidding we will have somewhere else to put the milk and their purpose will have been served. Plus there are bills to pay and the price of milk is plummeting daily.
3 polled Beef X Dairy bull calves. All sired by a stray Angus cross bull. The oldest out of a Jersey was born 8/2/08 and tapes on a Jersey weight tape at 277 pounds. The second oldest out of a 3/4 Jersey, 1/4 Norwegian Red cow, was a twin born on 8/12/08 and tapes on the Jersey scale at 246 pounds. The youngest out of a Jersey was born 9/10/08 and tapes on a Jersey scale at 233 pounds. The Guernsey and Holstein scales do not add more than 5 pounds to any of those weights.
Raised on milk (lots of it!), hay, mineral and water thus far. Still on milk and would be on milk until departure.
Obviously, the middle of January is not a good time to be selling, but things are what they are. I thought I would try posting them for sale on some of the groups and see if there was someone looking for beef next Fall that didn't require bottle feeding.
We don't sell calves that are older than a month or two generally, so we are looking for what we might be able to ask without seeming overpriced. We also are used to selling Jersey and Jersey/Norwegian Red bull calves and these have beef in them. We are in SE Ohio.
They are still bulls and we didn't know if we should go ahead and band them now, or if it will make any difference in the price.
Here are two pictures taken yesterday.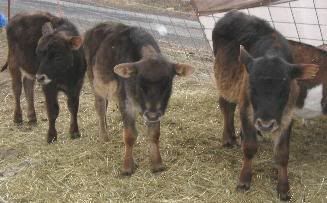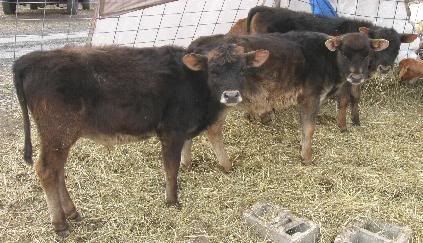 Clearly in their winter woolies. They are hunkered because we were up on our windy hilltop. Notice how much the panel behind them is bending because of the wind.
Thanks for any and all input.