·
Halfway, OR & Wagoner, OK
Discussion Starter
·
#1
·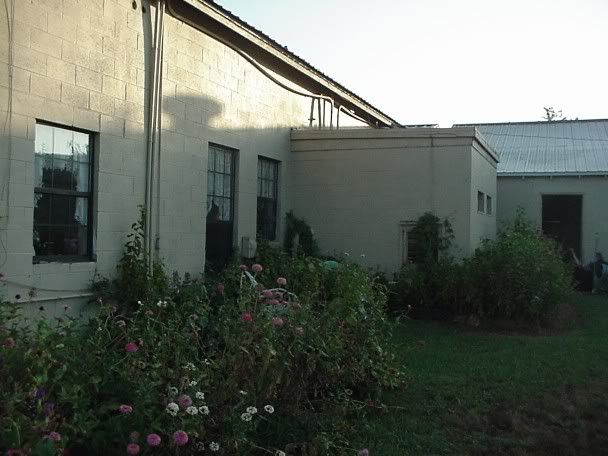 First of all, we live in a remodeled old meat-packing plant...an ongoing project.
This little addition (photo 2) needs a roof built over it before winter. The flat roof it has now leaks live a sieve. I use it for a "garden room", it is not an interior room. I want to add bigger windows & a French door (on the other side--courtyard--but that's another deal.)
I want this roof to be sound architecturally and look good. It will be metal.
The problem is the electrical pipes to the house are above this space. I would love to attach the roof to the main building just under the eaves (maybe 1 1/2 feet below the main roof line--or even right snug with it). But there's those darned pipes! (photo 3)
My neighbor man last night suggested to tie into the existing main roof & just continue the roof down over the addition--does that make sense? It would create a slightly different angle.
I'm no expert, but that sounds tacky to me, and not sound. Plus, I think it would look weird.
We live in Oklahoma so we have lots of rain and hard winds, but no snow.
This may take another 10 years to finish this place, but so far everything we have done has been solid and sound--and looks good. I'd rather do nothing than do it WRONG.
So far I'm stumped. Maybe the neighbor man is right. I suppose it would assure the least leaking problem.
I know we cannot afford to get too elaborate, but any ideas?