Discussion Starter
·
#1
·
I've got 4 hoop coops that are empty for the next year, and thought they'd make good greenhouses, or sunhouses? 2 are 8x8x6high, 1 is 8x12x6high, 1 is 4x8x4.5ft high. All three are covered in 2 layers of heavy clear plastic (house vapor barrier) for the winter, and on sunny days they are actually snuggy warm inside, even on sub zero days.
What's needed is advice on HOW to use them. I'm in the northern part of zone 5, on the top of a ridge. Excellent sunny area for the garden. So...should I just set them on the ground? Perhaps put the shorter one up on cinder blocks? It's unlikely that i'll be able to heat unless I put a kerosene or wood stove in them, but that might be doable.
I was thinking of using them somehow like the tunnels are used? or would they be better as potting/growing sheds?
Any and all advice would be greatly appreciated.
Small one: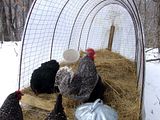 an 8x8: