Discussion Starter
•
#1
•
Now it's leeks. Thought I would go back to a few photos showing how I'm growing leeks this year in my 'no till' garden and blanching them as the grow with grass clippings mulch. So far, so good.
Here it shows back in mid March a week after the seeds are planted indoors and starting to germinate. They then grew under grow lights until about early May before going out to the zone 3 small greenhouse I use here: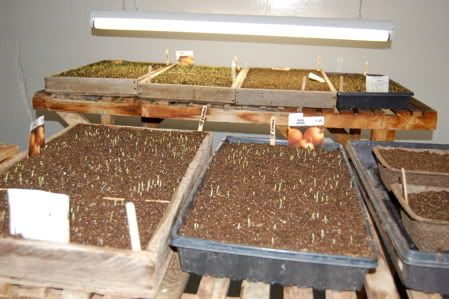 Here this picture shows onions that have grown by May 29. The leeks are about the same size. When ready to transplant, they are about the thickness and lenght of an ordinary pencil. Also, the tops are clipped off with scissors as they grow in the flats to keep them uniform and easily seen to be able to handle later for transplanting:
This shows a leek plant when being the size for transplanting around end of May for the zone 3 garden. Note the individual plant and nice extensive root system. Those roots can be clipped to about a couple inches, though I don't bother. A small trench is prepared in the garden row and some composted sheep or cow manure is added with some peat mixed in. The plants are individually poked down into that growing medium.
Now it's mid July, and the plants have been growing in the trench loosely lined with grass clippings mulch. Time to do a little 'adjusting' to help them along to a stage where they'll get boosted for nutrients and also more mulch added along their neck length to keep them blanched white without the use of soil. The mulch also aids in weed suppression.
Here shows the mid July leeks growing after some preliminary weeding along the row lengthe where the leeks are growing. Most are around 8 inches from the base to the tip.
A bucket of finished new compost and a pile of mulch to the left is now to be utilized for this mid season leek garden culture:
The photo here shows the row fortified with the compost for extra nutrient to help them along to maturity for good sized leeks hopefully.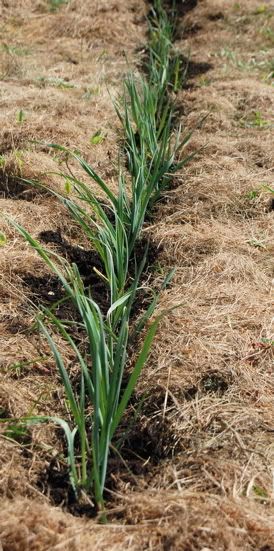 Now, the grass clippings is mulched in along the sides and loosely against the stalks. As they grow more mulch will be packed in against the sides. The plants need to have fully their tops exposed for photosynthesis, so care to not cover them completely with mulch is necessary: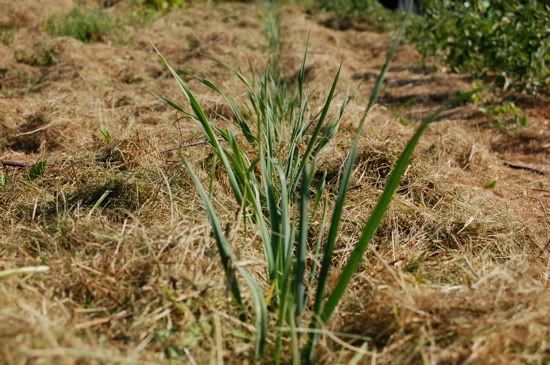 Now, they keep growing and the mulch helps retain ground moisture as well. The nice thing also is without hilling the leeks with soil, they are much cleaner at harvest. You know when you buy or grow leeks conventionally in dirt? When you split them to clean them, they invariably have soil particles to wash off. With mulching there is none, or very little of that to contend with.
Grow out now will be with some weekly manure tea waterings for nitrogen boost that they enjoy for solid green top growth, and the mulch, if done correctly, will assure stems blanching white.