Is this Cottonwood you are talking about the same as Poplar? Popalr is classed as a "hardwood", even though it is very soft, as you describe. In Northern BC a lot of real pretty furniture is made from Poplar. Lots of fancy places with tongue and groove ceilings and walls are using Poplar, because it looks so smooth and pretty, like mellow-butter-yellow-cappuccino-almost-maple-almost-knotty-pine-sometimes.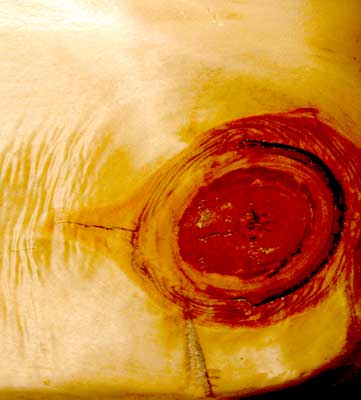 Wall Under the North Window, with Varnish.
We are fortunate, we made our entire log cabin of this beautiful, and often maligned wood. The 12 to 22 inch diameter logs have lasted 34 years so far. With three or four coats of inside varinish, the above is what it looks like. The outside, can either be left to grey, or stained to color, or varnished (yearly up-keep is high) - we let it grey on the sides and varnished at the front entry under cover.
Off the topic, oh well.
Also, lots of "rustic" furniture is made from peeled, sanded, and varnished Poplar, and I think it looks real good.
Alex