Discussion Starter
·
#1
·
To make variegated dyed roving like those pictured, you will need: Stainless steel or enamel dyepot (mine is a 16 quart ss stockpot), soaking pot (mine is a 20 qt ss stockpot), wood spoon, Gaywool dyes (Brand used here)
Safety first: Work in a well ventilated area, use utensils and pots designated for dyeing only. Although I use my kitchen, I don't do any cooking while I am dyeing. I use my bathroom sink to do any rinsing, not the kitchen sink.
I happen to use Gaywool dyes. They are readily available online. Luckily, a woman in my spinning group is a dealer. (She's bringing me some tonight)
Bear in mind that this is how I do it to get the variegated fiber pictured in the other thread. It is usually an experiment that cannot be duplicated, because I don't weigh out the dye, or make notes about what colors I used, etc.
Gaywool dyes use a level capful per 4 oz of fiber. I usually measure out 4-6 oz of fiber. I am using an alpaca/merino blend in a roving. Wrap it around your hand (loosely) in a wheel, as opposed to a ball.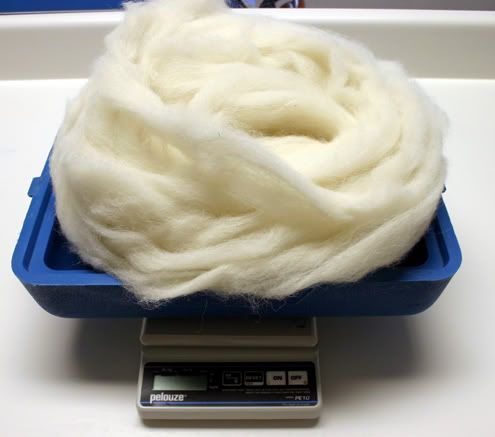 Fill your soaking pot (or sink, whatever you're using) with hot water and a dollop of dishwashing liquid. Carefully place your wheel of fiber in the pot, and push down slowly until the fiber is under the water.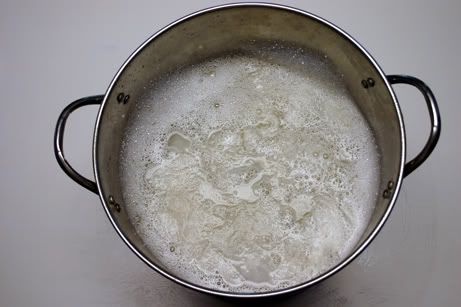 Let soak for a minimum of 15 minutes. You want the fiber well wetted so it will readily take up the dye.
Now carefully remove the fiber from the soaking pot, and place it in the dyepot, trying to keep it in the wheel as much as possible. Pour hot water down the side of the dyepot, until it is about 3/4 up the side of the fiber. You want some fiber not under water.