·
Be powerful. No other option exists.
Discussion Starter
•
#1
•
July 19, 2007 at 09:35 PM CDT
Having a week off has been wonderful. We are able to recharge our batteries and Cole is doing so well, it is reminiscent of the days before diagnosis. Lots of running and playing and lots of arts and crafts. He has been eating every hour on the half hour to boot! In fact, his daily intake of cookie dough is hard to keep up with. Ironically, he has also been eating plenty of protein. We have been off the TPN nutrition and he is taking in full calories like a normal kid. Since he is not getting fluids through the night we have not had to get up every few hours to change diapers. That has resulted in a full night of sleep which hasn't happenend since November. We definitely needed a break.
Gran is in for the night and Cole has been talking up a storm. He is so excited to have a fresh face to show his territory. As soon as she got here, he took out all of his trains and told Gran all of their names. Gran also made Cole a Superman cape, and he has really been having fun with that. He will probably teach her how to make cookies tomorrow.
Our lab check today was pretty good. Cole's red cell count is still sky high. His ANC dipped to 600, so that is kind of strange but not unheard of. The big thing that we are watching is his platelet count. We can't go ahead with the next round of chemo until his platelets come up, and as much as we enjoy the break we need to have his body respond so we can move forward. I am sure that prayers for "what is best for Cole" will continue to be filled. It is never easy for control freaks to go on "God's time", but we are getting better at it.
When we find out more about our schedule we will fill everyone in.
Wendy and Nathan
Superman!!!!!!!!!!!!!!!!!!!!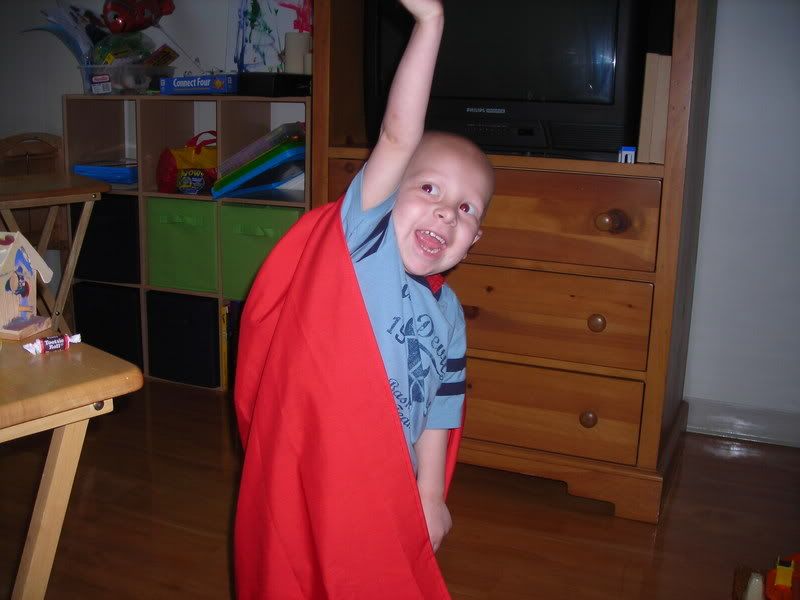 Superman's Daddy wore the cape for a few minutes while waiting for Superman's Mommy to catch up to where we were.