Discussion Starter
•
#1
•
I bought her about a month ago. The woman said she had tripletts but only a doe survived and nursed from her. When i had asked how long ago she gave birth, she said about 2 months before i bought her. i asked the usual questions about vacs and deworming and the reply i recieved is
"She got CDT and BoSe in January, Ivermectin wormer in February. She got another BoSe and Ivermectin on June 30. I trimmed her hooves on the 7th of this month, and she has been dusted for mites. "
I thought she was pretty thin and di not think to check her eyelids for anemia when i drove out to look at her. She was pretty thin compared to the other doe who gave birth around the same time, but I thought having a triplett pregnancy most likely made her that way. (2 died at birth). She is in the meat goat (boer) business, so I assumed (one place i went wrong) that she would not ethicly sell me a sick goat knowing i wanted her for milking as the family milking goat. I have had problems starting the next morning of her previous nights arrival. Diarrhea, runny nose, dry skin, not very energetic and her under jaw/chin keeps swelling. It will not be bad at all in the morning- barely there but some loose skin. But as the day goes on it looks like this by dinner time and sometimes bigger: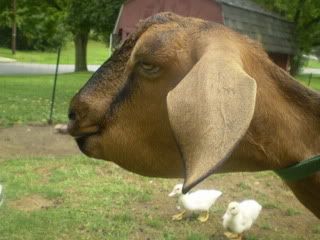 A friend from out of town, did a fecal and said she does not appear to have a worm problem- any more then what is considered normal.
. I wormed her with safeguard 2x in a 2 week period at the dose i saw reccomened on fiasco's site. note she has already been wormed with ivermectin twice from her previous owner. I have given her a trial of antibiotic for the kinda green snotty nose and she has received Red Cell "iron rich homogenized selenium biotin" The vitamin iron mineral supplement. 2 tsp 2 x a day for over a week.
This is a body shot from today-and she has put on some weight since her arrival: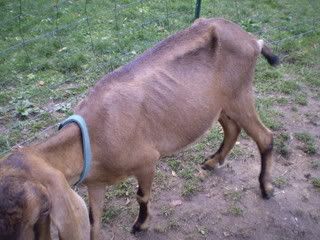 She has free choice hay, free choice loose minerals(purina) & baking soda, plus I have been giving her 1/2 cup of grain in the hopes to put some weight on. i stopped milking her within 2 weeks of her arrival since she did not seem right- I "weaned" her so as not to cause her discomfort. She was giving maybe 1 cup of milk at each milking.
What more can i do? I am broke from buying all this stuff along with the fact we just bought a big amount of hay which drained the goat budget for at least a month.I so badly want to tell that woman come get her and return my money. I feel she unethically sold me this goat- knowing something was wrong. There is no way in just 12 hours she became white lidded added to everything else. I am very angry over all of this.
Hopefully i can get this one back to good health and sell her. I will keep our other one since she has become a family pet over the last year, but thats it! no more goats for at least a few years.
Anyone know what is wrong with her? what more can i do?