Discussion Starter
·
#1
·
I played a game with myself this morning. Went to the store to just shop for my stockpile supplies and my goal was to only spend 20 dollars (just wanted to see what would happen), buy nothing made in China, and try to buy only things that have a shelf life. I also wanted to buy things we will eat and use. Was a good workout in math as I forgot my calculator! LOL (thunks self in head)
I had fun actually.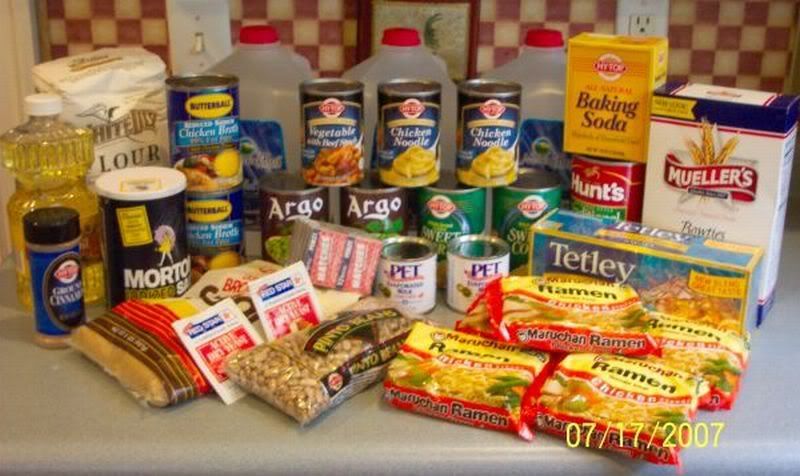 Here is what I got. (I spent 20.95 total)
2 Butterball Chicken Broth, on sale for 2 cans for 1.00
Bag of Pinto Beans, .59
Ramen Noodles, on sale 5 for .89
2 cans of Peas, on sale 2 cans for .88
2 cans of Corn, 2 cans for 1.00
Tea, on sale for 1.00 (not my normal brand, but couldn't resist the sale)
Big bag of Brown Sugar, 1.33
Flour, on sale for 1.25
Cinnamon, .59
2 packages of yeast, .63 each
2 small cans of Evaporated Milk, .67 each
Salt, .49
Baking Soda, .50
Corn oil, 1.59
Pasta, .98
Spaghetti Sauce, 1.00
3 cans Soup, .59 each (I think, I forgot to write it down, lol)
Matches, .67
3 Gallons of Distilled Water, .67 each
I have some stuff stockpiled already, but so many folks are trying to get going and all, why not just see what you can tuck away for 20 dollars? Is a simple start.
Anyone want to play?